This spiced orange cardamom cake is filled and covered with a sweet rose buttercream and is garnished with the most delicate dried rosebuds. It's so easy to make, and is the most beautiful birthday cake!
Oh do I have something special for you today.
But first let's backstreet, I mean backtrack a little bit.
Remember when we went to Israel a month ago and I was totally freaking out about the plane and the trip, blah blah, whatever. Well we had an awesome time — thank Gd. And part of what made that time so awesome was that Morris (the husband) and I got to spend a day solo without the kids in Jerusalem. I MEAN BY OURSELVES GUYS. We got to roam around the city freely, eat at nice restaurants, shopped without kids whining at stores, and best of all got to explore the Machane Yehuda shuk alone.
We roamed down the aisles, looking at all the spices, dried fruits, and rugelach — omg you have to get the rugelach — and Morris waited patiently while I took some pictures. Eventually, we decided to stop at one of the stalls to buy some things and I came upon these. These beautiful, little, bright magenta dried rosebuds. I immediately said to Morris I don't know what I'm gonna do with these but I need to get them. In my head I thought I'd probably just put them on a cake.
And that I did.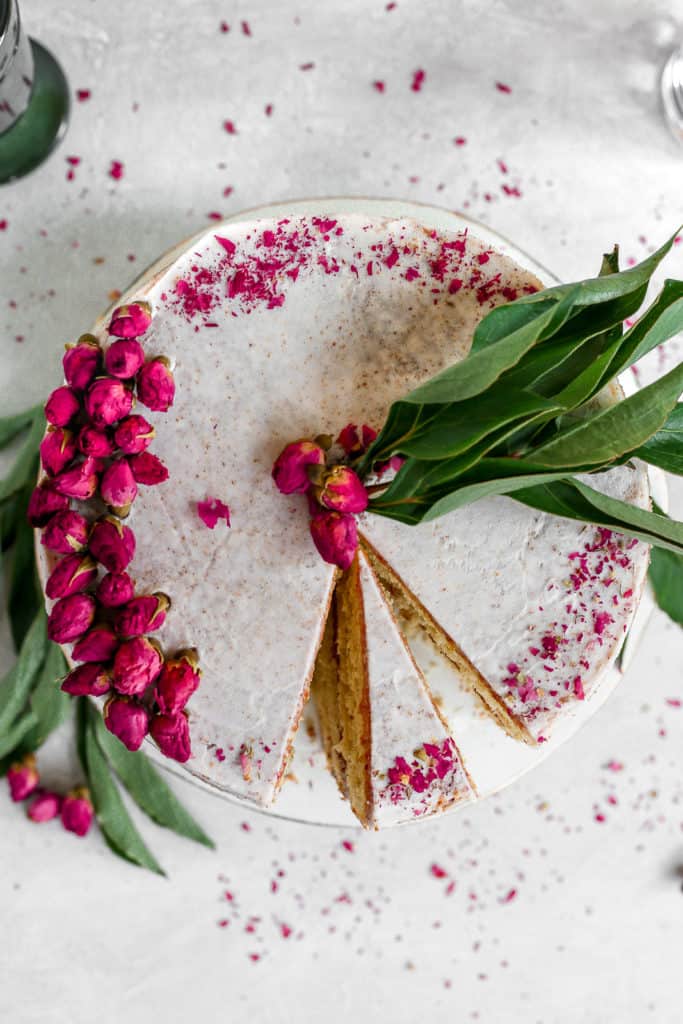 Creating this orange cardamom cake recipe
Now back to today. Today is my fellow kitchen dancer, Backstreet Boy lover, and friend Mel from kitchen-tested's 35th birthday! I was so honored and excited when she asked me to make her a birthday cake, and immediately said YES! When I asked her what flavors she's into, she said she loves everything except for olives. HA. The options were endless, and I was like hmm.
But then she said she was very into unique and fun flavors, that are sorta out there but not crazy crazy. And that she loves spices. In that instant I knew what I was gonna do. Those beautiful little rosebuds that have been waiting so patiently for me in my cabinet were finally gonna go to use and in SUCH a fun way!! I knew that the next day was going to be filled with recipe testing and lots of BSB dancing.
So to celebrate Mel's bday I came up with this — a spiced orange and cardamom cake filled with rose water buttercream. I'm obsessed with it. And I got an unsolicited compliment from Morris on this one guys, so you know it's good!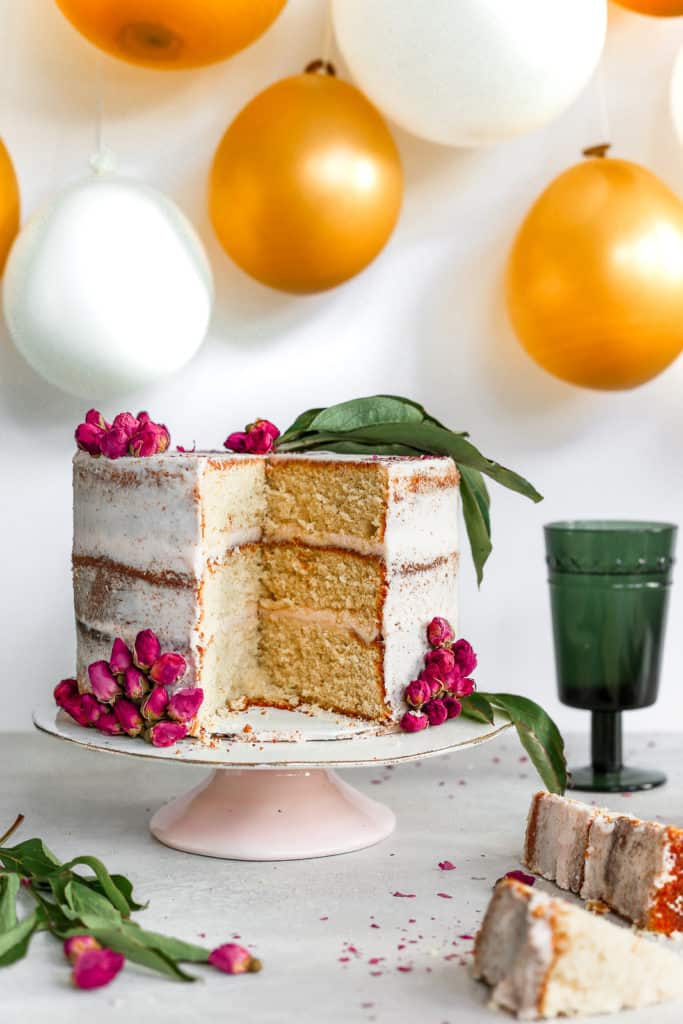 What's in this orange cardamom cake?
I'm sure some of you are thinking "woah what are all those things you just said" — BUT cardamom is a spice you can find in any grocery store, and rosewater you can find in any kosher supermarket or Mediterranean market. The dried rosebuds are harder to come by, but I think you can find them on Amazon. Everything else is standard baking aisle stuff.
The orange and cardamom flavors pair so well in the cake and both help to enhance the other, while the rosewater is used sparingly but will give you the sweetest floral taste that is hard to explain, but it tastes like it sounds and it's glorious.
Besides those few oddball ingredients, this is essentially a standard vanilla cake recipe. There are quite a few eggs in the batter, plus some orange juice, but besides that I bet you have everything you need to make this fab cake already in your pantry!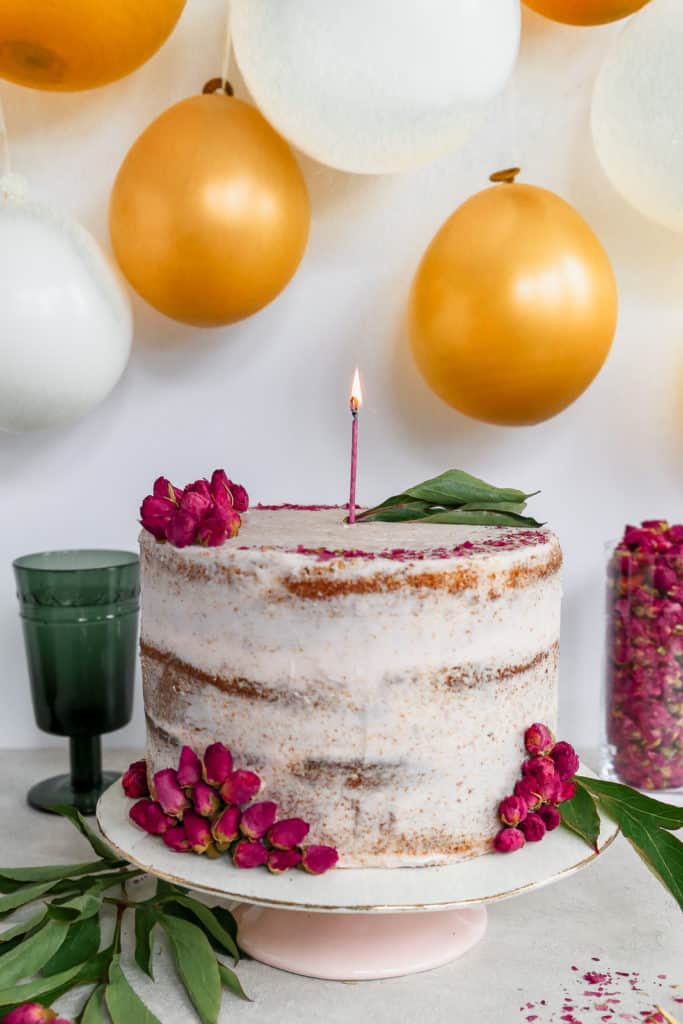 How to make orange cardamom cake
I feel like I say this every time, but this cake is so easy! Don't let the pretty pictures fool you, you can have the orange cardamom cake batter made and in the oven in about 10 minutes.
To make this cake, you simply cream the butter and sugars together, and then slowly add in the eggs. Then alternately add in the rest of the wet and dry ingredients — voila! Orange cardamom cake batter. Divide the cake batter between three greased 9-inch cake pans and bake until the edges pull away from the pan.
Once the cake layers are out of the oven, let them cool completely before making the rose buttercream. Then, simply frost that baby and decorate however you see fit. I used dried rose petals, but you could use fresh flowers as well (here's more info on how to decorate a cake with flowers).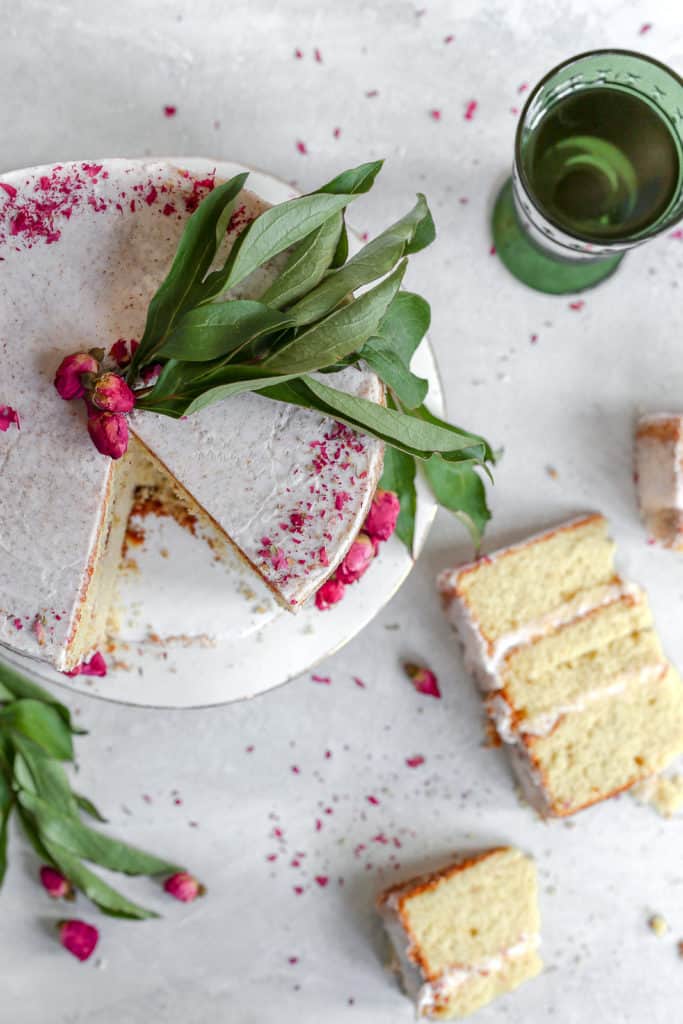 Can I use different sized cake pans?
Absolutely! If using 8- or 6-inch pans, you'll need to adjust the bake time. 6-inch cakes will likely need 25-30 minutes in the oven, and 8-inch cakes will need a little more time. Just make sure to still divide the batter among three pans, otherwise the batter might spill over while baking.
Can I make this cake in advance?
This cake tastes best day of, but it will last a few days in the fridge. I suppose if you really wanted to prep this cake ahead of time, you could bake and freeze the cake layers and thaw the night before you plan on serving it. You'd need to make the rose buttercream frosting just before serving this cake, though.
I haven't tried that myself, but if you're in a pinch it might work out fine!
Tips for making orange cardamom cake
I've said this once, and I'll say it again: do NOT add more rosewater than the recipe calls for! It's powerful stuff, and it can quickly overpower the entire cake.
And for the best flavored cake, use freshly squeezed orange juice if you can. Or grab a good-quality bottled juice from the store — just try to avoid anything with extra sweeteners in it.
Besides that, there's nothing more to say about this cake. Except that you need to make it ASAP, that is.
So now EVERYBODYYYY (YEAHHHHHH) head on over to Mels blog post, and wish her a happy 35th birthday!!! Bonus points if you throw in a BSB pun.
HAPPY BIRTHDAY, MEL!!!!
Need more easy cake recipes?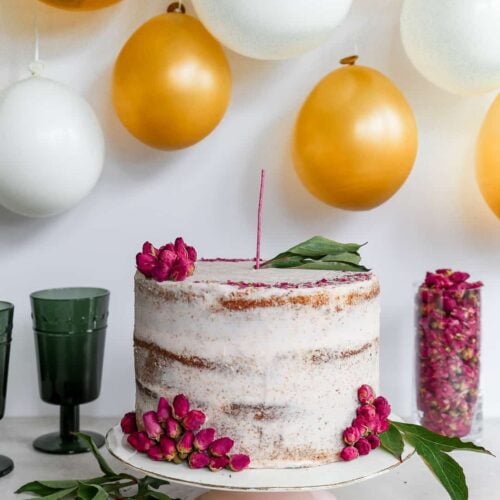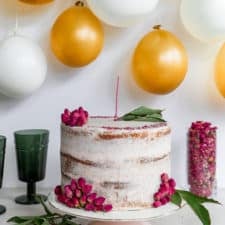 Orange Cardamom Cake with Rose Buttercream
Happy birthday to Melinda from Kitchen-Tested!! In honor, I made this beautiful orange and cardamom cake with rose buttercream.
Print
Pin
Save
Saved!
Rate
Servings:
1
Large cake for 15-18 servings
Ingredients
For the cake:1 ½ cups unsalted butter

softened to room temperature2 cups granulated sugar1 ½ cups packed light brown sugar8 large eggs5 cups of all purpose flour1 tablespoon ground cardamom1 tablespoon baking powder½ tsp kosher salt¾ cup lowfat milk¾ cup orange juiceZest of 1 large orange2 teaspoons vanilla extractFor the rose buttercream:1 cup unsalted butter softened to room temperature4 cups confectioners sugar1 1/4 teaspoons rosewater*1/2 teaspoon vanilla extract3-4 teaspoons half n half, milk, or milk substitute2 drops of pink food coloringpinch of kosher saltDried rose petals for garnish
Instructions
For the cake:Preheat your oven to 350° F.Spray 3 9" round pans with baking spray or line with parchment paper.In the bowl of a stand mixer fitted with a paddle attachment combine the butter and sugars and cream on medium until light and fluffy, about 2 minutes.Add in the eggs one at a time on low to fully incorporate them into the mixture. Keep the mixer on low.In a separate medium sized bowl combine the flour, cardamom, salt, and baking powder. Set aside.In a large measuring cup, combine the milk, orange juice, zest and vanilla. Turn the mixer off and add in ⅓ of the dry ingredients. Mix on low till combined.Keeping the mixer on low, then add in half of the liquid ingredients, then another 1/3rd of the dry, then the last half of the liquid, and finally the last 1/3rd of the dry ingredients. Turn up the mixer to medium and mix until the batter becomes smooth. Divide the batter between the pans and bake for 40- 45 mins or until a skewer inserted in the center comes out clean and the edges start breaking away from the pan.For the buttercream:In the bowl of a mixer fitted with the paddle attachment, combine the butter and sugar and mix on low speed, picking up to medium as the mixture combines.Mix on medium speed for 2 minutes.Add in the rose water, vanilla, food coloring, milk, and salt.Beat on medium speed for 3-4 minutes.To assemble the cake:Using a large serrated knife, cut off the tops of the cake to level them off.Place the bottom layer on a cake board and fill with 1/3rd of the buttercream.Place the middle layer on top and fill again with another 1/3rd.Lastly place the top layer down and ice the cake with the remaining icing.Garnish with fresh or dried rose petals.
Notes
*Rosewater is the type of thing where a little goes a long way. Be mindful of how much you are putting in to the frosting so the flavor doesn't become overpowering.
SaveSave