This Coffee Glaze is made with instant coffee and can be whipped up in just 2 minutes with only 3 ingredients. You can also use Espresso powder to give it an extra boost. This easy glaze is perfect to drizzle over coffee cupcakes.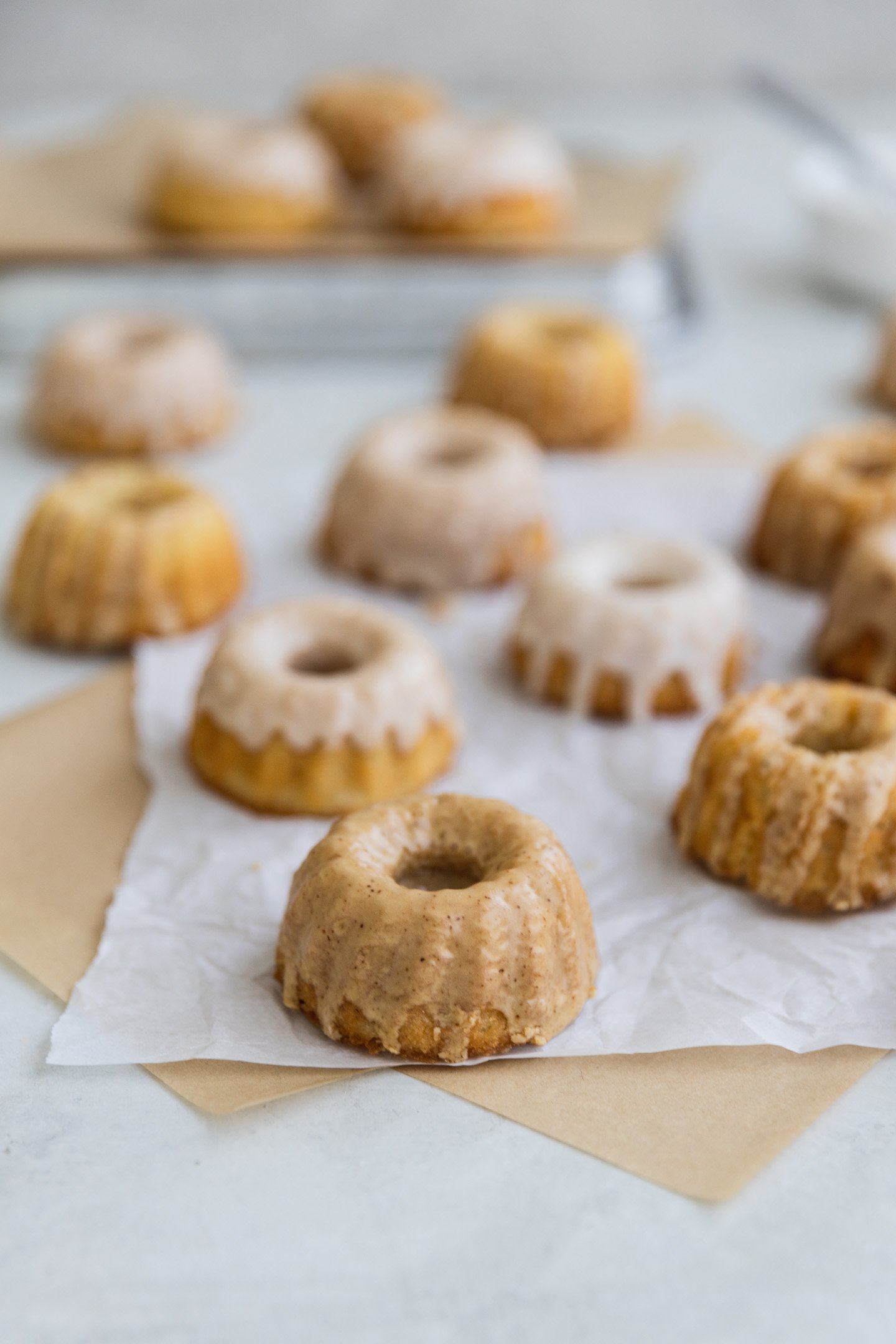 Glazes are one of my favorite things to make as a professional pastry chef because you can whip them up in only 2 minutes, yet they add so much flavor and decoration to cakes or cupcakes! Also you can totally eyeball it, which you really cant do with baking recipes.
This coffee glaze is made with powdered sugar, instant coffee, and water. Add all the ingredients to a small bowl and whisk! You'll create a smooth and silky coffee glaze that you can pour over mini bundt cakes, coffee cupcakes, or chocolate coffee cake.
Most glazes are made with 2 to 3 ingredients- powdered sugar, which acts as the base and bulk of the recipe, and a liquid flavoring. It always looks like you have A LOT of powdered sugar but when you add liquid to it, it quickly dissolves into a thin glaze. It's like magic!
If your icing is too thin or too thick, make sure to read how to thicken frosting quickly for how to fix your glaze!
WHY YOU SHOULD MAKE THIS RECIPE
This cake icing only takes 2 minutes to make and is foolproof!
The coffee flavor will take your desserts over the top.
It's simply made by whisking only 3 ingredients in a bowl.
INGREDIENTS NEEDED
Instant Coffee – This is the primary flavoring agent in this glaze, infusing it with the rich, robust taste of coffee that complements the sweetness of the desserts.
Hot Water – Used to dissolve the instant coffee granules, allowing them to release their full flavor and create a concentrated coffee mixture.
Powdered Sugar – Makes up the base of the glaze, providing the desired sweetness and smooth texture.
Espresso Powder (Optional) – Adding espresso powder to the glaze is optional but highly recommended for coffee enthusiasts. It intensifies the coffee flavor, adding an extra punch of richness and depth.
HOW TO MAKE COFFEE GLAZE
Dissolve the coffee: Add the hot water to a small bowl or cup along with the instant coffee. Mix until the coffee is fully dissolved and allow it to cool for at least two minutes.
Assemble the glaze: In a small mixing bowl, sift in the powdered sugar. Then, add the coffee and water mixture and whisk until smooth.
Drizzle or dip: Once the glaze is mixed together, quickly drizzle it over your favorite desserts, as it will harden quickly. Enjoy!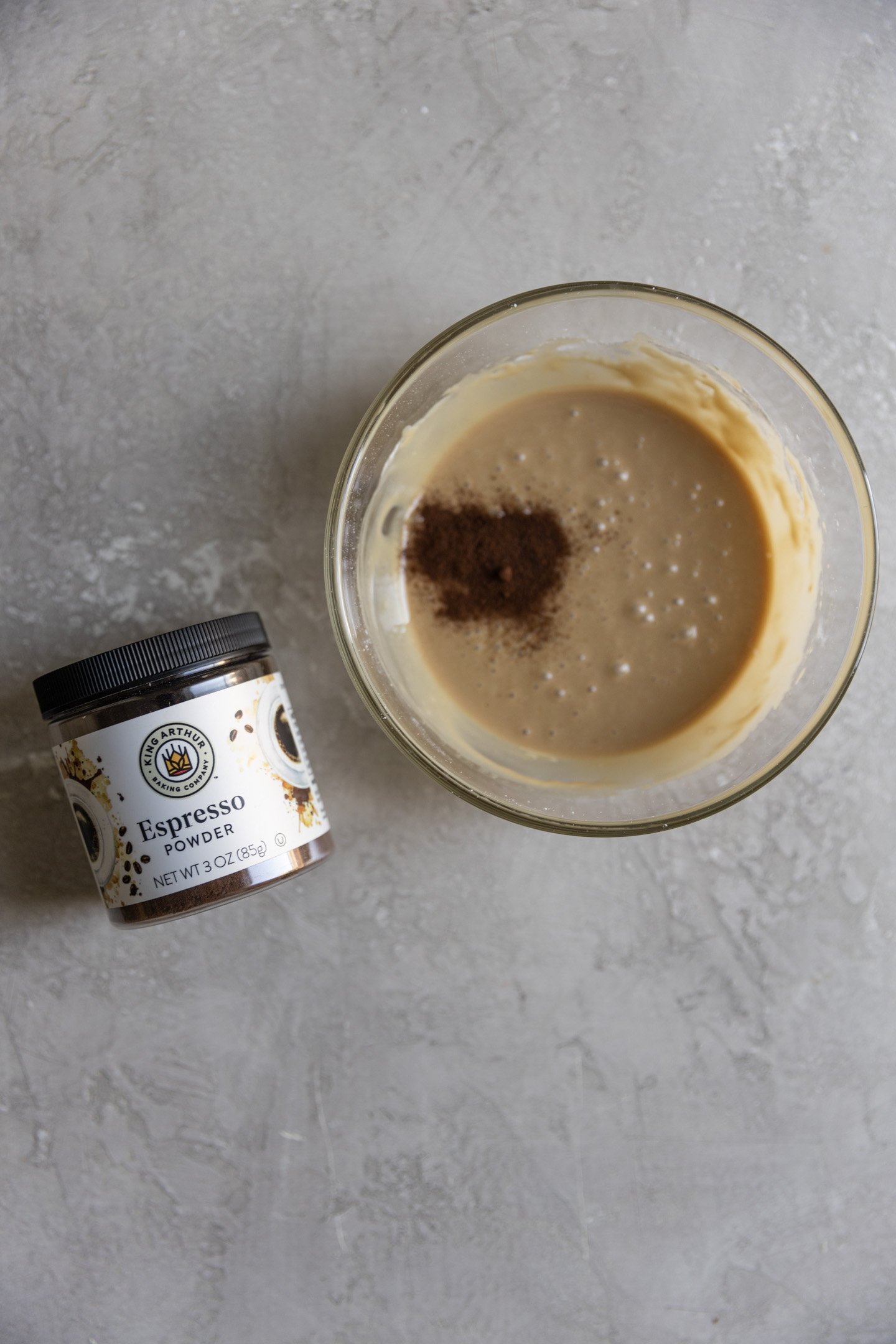 TIPS FOR RECIPE SUCCESS
Since the flavor of the coffee glaze heavily relies on instant coffee, choose a high-quality brand that you enjoy.
Learn how to thicken frosting properly if your glaze is too thick or thin!
Allowing the coffee mixture to cool for the specified 2 minutes is crucial as it ensures that the glaze sets properly on the desserts.
Once you've prepared the glaze, it's important to drizzle it over your cakes or cupcakes immediately. The glaze hardens quickly, so work efficiently to achieve the desired effect. If the glaze starts to harden in the bowl, simply give it a quick whisk or reheat it for a few seconds in the microwave to restore its pourable consistency.
Yield
This recipe will make enough to glaze 1 cake or 12- 15 cupcakes.
Make the glaze right before you want to drizzle it over the cake. It cannot be made ahead because once it is exposed to air it will start to harden!
STORAGE
For best results, only make as much glaze as you need for this recipe. Since it hardens quickly, it will not store well in the fridge as it will turn into a solid block. For something you can store and freeze, try making this easy Coffee Buttercream Frosting.
FAQ
Can I use brewed coffee instead of instant coffee?
Yes totally!
How long does the glaze take to set on the desserts?
The glaze sets fairly quickly, usually within a few minutes. Once you've drizzled it over your desserts, it will start to harden, creating a beautiful glossy finish. Avoid touching or moving the glazed desserts until fully set to maintain a smooth appearance.
MORE WAYS TO ENJOY
Drizzle or dip these delectable desserts in this simple coffee glaze!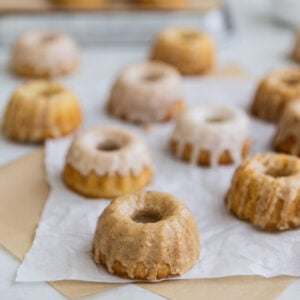 2 Minute Easy Coffee Glaze
This Coffee Glaze is made with instant coffee and can be whipped up in just 2 minutes with only 3 ingredients. You can also use Espresso powder to give it an extra boost. This easy glaze is perfect to drizzle over coffee cupcakes.
Print
Pin
Save
Saved!
Rate
Ingredients
1/2

tsp

instant coffee

1

tbsp

hot water

1 1/4

cup

powdered sugar

1/4

tsp

espresso powder

(optional)
Instructions
In a very small bowl or cup combine the ½ tsp instant coffee and 1 tbsp hot water.

Mix to dissolve the coffee granules and set aside to cool for 2 minutes.

In another small bowl add the 1 ¼ cup powdered sugar.

Add the coffee to the powdered sugar and whisk until smooth.

For extra flavor, add in ¼ tsp espresso powder.

Drizzle immediately over cakes. The icing will harden quickly.
Notes
Make sure to make this frosting right before drizzling over the cake. It does not store well as it will harden quickly!
Please note that the calories listed are for the entire recipe of the glaze. 
Nutrition
Nutrition Facts
2 Minute Easy Coffee Glaze
Amount Per Serving (1 cake)
Calories 586
% Daily Value*
Sodium 4mg0%
Potassium 30mg1%
Carbohydrates 150g50%
Protein 0.1g0%
Calcium 3mg0%
Iron 0.1mg1%
* Percent Daily Values are based on a 2000 calorie diet.