Make easy Coffee Cupcakes from scratch with with instant or cold brew coffee. As a result, they are delicate, moist, and downright delicious. Topped with fluffy coffee buttercream frosting, these cupcakes are a coffee lover's dream come true!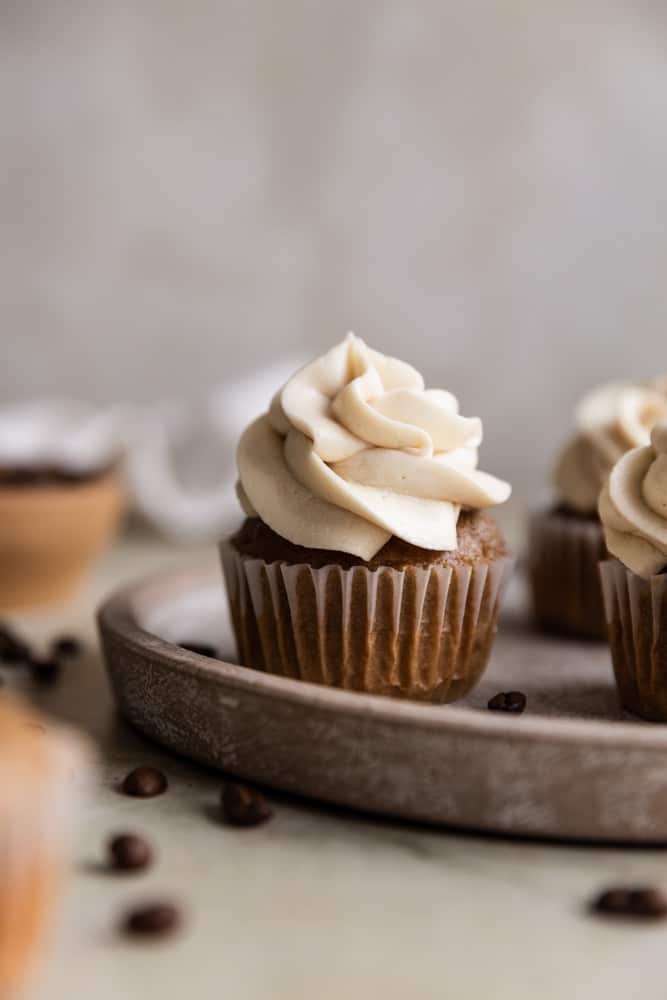 These coffee cupcakes are like sipping on a rich and creamy latte- forget the coffee shop, and back a batch of these cupcakes instead!
I mean, what could be better than enjoying your morning coffee in the form of a soft and sweet coffee-flavored cupcake with a swirl of whipped coffee buttercream frosting on top?!
As a serious coffee lover and pastry school grad I have an extensive list of coffee desserts for you to try out. From coffee cheesecake to coffee cookies to coffee blondies!
My espresso cupcakes were also such a success I decided to add a straightforward coffee cupcake recipe that I know you are going to love!
These cupcakes are full of rich coffee flavor from all over. First theres the cake that is made with coffee in the batter and then it's topped with a deep coffee . To take this recipe over the top you can add espresso beans as garnish and/or drizzle this easy coffee glaze as a final touch.
WHY YOU SHOULD MAKE THIS RECIPE
It's great for baking beginners. The cupcake batter whips up in one bowl, and making buttercream frosting with coffee is easier than you may think!
The simple ingredients include instant coffee and basic baking ingredients you may already have.
The flavor of the cupcake and the frosting is roast coffee forward, and the consistency of both is flawless.
INGREDIENTS NEEDED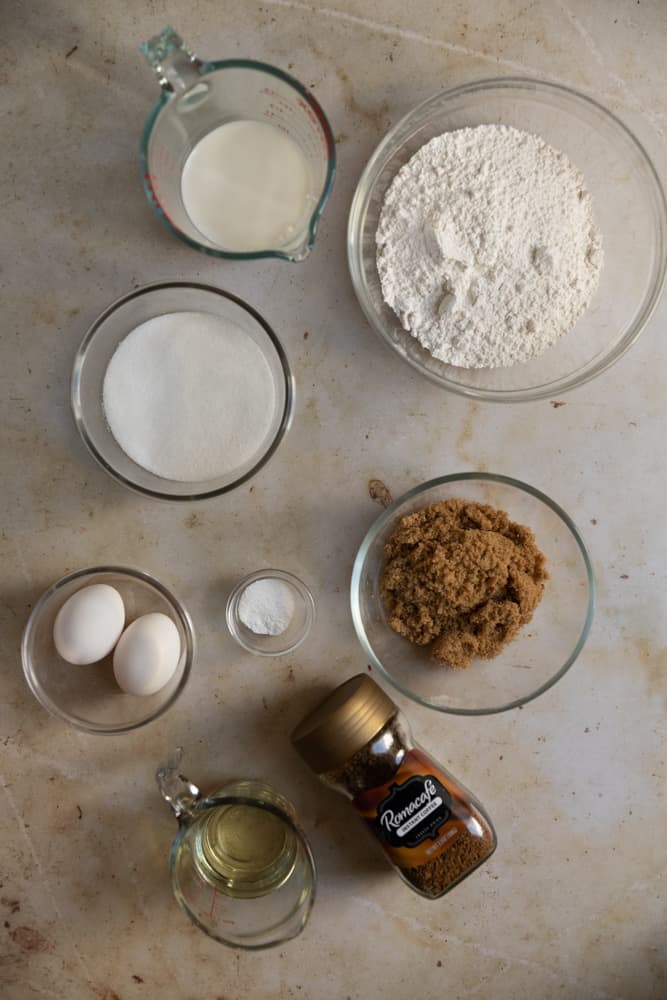 Vegetable oil – Many cupcake recipes use butter for moisture and density, but vegetable oil can also create a tender cupcake.
Granulated sugar AND brown sugar – Yes, you must use both. Granulated sugar sweetens, while brown sugar adds rich, caramel-like notes to the base cupcake and improves the texture.
Instant coffee + warm water – These wouldn't be coffee-infused cupcakes without it. You can make these with regular or decaf, of course.
Eggs – Adds moisture and strengthens the batter, so it sets properly during baking.
Flour – Flour is the framework. It absorbs the wet ingredients, creating a stable, cohesive cake batter.
Baking powder & baking soda – This pair of leavening agents play an essential role in the batter rising into tall, spongy cupcakes.
Kosher salt – Salt also helps the batter rise and refines the bitter-sweet coffee notes.
Buttermilk – The acidity in buttermilk reacts with the leavening agents, causing the cupcakes to rise while making a moist-tender crumb and adding a touch of tangy flavor.
Coffee frosting – The topping!
HOW TO MAKE COFFEE CUPCAKES
Prepare for baking: Preheat the oven to 350°F and line two 12-cup muffin tins with cupcake liners (the batter yields 16 cupcakes). Set aside.
Combine oil with sugars: In a mixing bowl with a wire whisk or in the bowl of a stand mixer fitted with the paddle attachment, combine vegetable oil, granulated sugar, and brown sugar.
Mix in coffee and eggs: In a separate small bowl, dilute the instant coffee grounds with a splash of warm water. Then add the mixture to the oil-sugar mixture along with the eggs and mix until combined.
Mix in dry ingredients and buttermilk: Add flour, baking powder, baking soda, and salt. Mix lightly until just combined. Finally, mix in the buttermilk.
Pour batter and bake: Pour the batter into the lined muffin cups, and bake for 18 minutes.
Cool: Let the cupcakes cool in the muffin tin for 5 minutes, then remove and set them on a cooling rack or wire rack to finish cooling while you get started on the coffee frosting.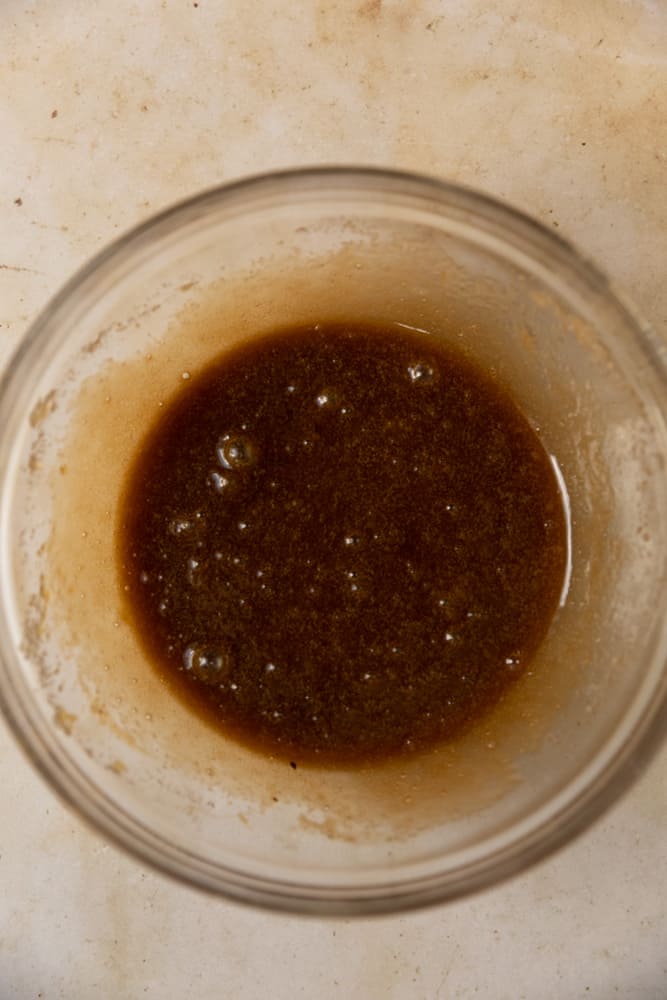 HOW TO MAKE COFFEE FROSTING
It's super simple to make from scratch with instant coffee, softened butter, powdered sugar, and a bit of milk. For the full recipe with tips and tricks, head to my Coffee Buttercream Frosting recipe.
Cream butter and sugar: Add butter and sifted powdered sugar to a large bowl or the bowl of your stand mixer fitted with the paddle attachment, and beat on medium speed until the frosting is fluffy and pale yellow in color.
Combine with remaining ingredients: Add liquefied instant coffee and beat for another minute. Scrape down the bowl. Add the cream and dry instant coffee grounds and combine.
The kind of coffee to use
For this recipe I used instant coffee combined with water but you can use any cold coffee you have on hand. Cold brew works too! You can even use decaf.
TIPS FOR RECIPE SUCCESS
Use room temperature ingredients – This ensures the ingredients mix properly, creating a smooth batter.
Measure precisely – For accuracy, use a kitchen scale or spoon the flour from the container into the measuring cup and then level it off. You'll have too much flour if you scoop the flour directly from the container with your measuring cup.
Don't overfill the tins – Fill the muffin cups only 2/3 of the way full, or else they will spill over the top.
Checking for doneness – Insert a toothpick into the center of one of the cupcakes. It should come out clean or mostly clean with a tiny bit of moist crumbs.
Decorating – Pipe the buttercream using a pastry bag and tip, or you can just cut off the corner of a zip-top bag to use as a piping bag.
VARIATIONS
Make it a mocha! To add a dark chocolatey mocha element to these cupcakes, you have a couple of choices.
Mocha cupcakes – Swap the base coffee cupcake with chocolate cupcakes and frost with coffee buttercream. Or vice versa, ice the base coffee cupcake with chocolate frosting.
Mocha frosting – Mix cocoa powder into coffee buttercream.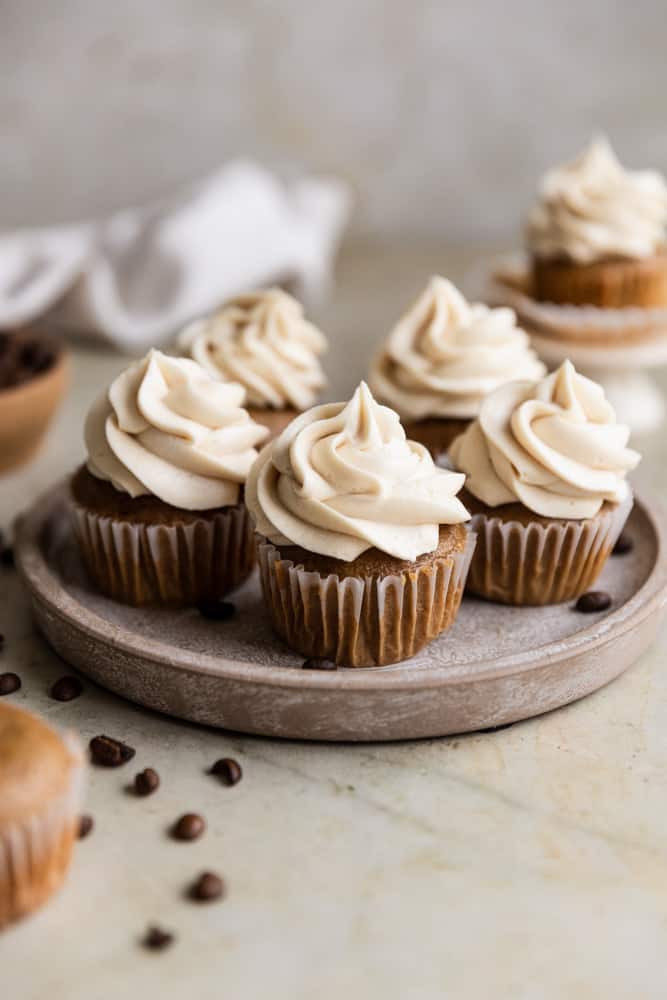 STORAGE AND FREEZING
Storing – Frosted coffee cupcakes will stay fresh in an airtight container at room temperature for 4-5 days or in the fridge for up to a week.
Freezing – Let cool, then place the unfrosted cupcakes in a freezer-safe resealable bag. Press out all of the air, seal, and freeze for up to 3 months. Let thaw at room temperature and decorate the day you plan to serve them.
FAQ
Can I make these cupcakes into minis?
Sure! If you want to make bite-sized frosted coffee cupcakes, bake the batter in a mini muffin pan for 10-12 minutes.
Can you add coffee to the frosting?
Absolutely. You can dissolve instant coffee in hot water, let cool, and whisk it into classic buttercream, or you can whisk the powder directly into the frosting.
Do I have to use instant coffee?
No. Instant coffee is convenient in baked goods because you don't have to wait for it to brew. However, fresh, strongly brewed coffee also works but needs to cool first. Likewise, you can use quality cold brew.
WAYS TO ENJOY
Skip the coffee-flavored frosting and try one of these creative combinations.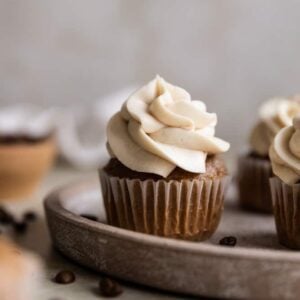 Easy and Moist Coffee Cupcakes
Make easy Coffee Cupcakes from scratch with with instant or cold brew coffee. As a result, they are delicate, moist, and downright delicious. Topped with fluffy coffee buttercream frosting, these cupcakes are a coffee lover's dream come true!
Print
Pin
Save
Saved!
Rate
Ingredients
½

cup

vegetable oil

½

cup

granulated sugar

100g

½

cup

brown sugar

110 g

2

tsp

instant coffee

1

tbsp

warm water

2

eggs

large

1 3/4

cups

flour

210g

½

tsp

baking powder

½

tsp

baking soda

½

tsp

kosher salt

⅔

cup

buttermilk
Instructions
Preheat the oven to 350° F and line a muffin tin with cupcake liners. In a large bowl or in the bowl of a stand or hand mixer fitted with the paddle attachment, mix together the ½ cup vegetable oil, ½ cup granulated sugar, and ½ cup brown sugar. Use a whisk if you are mixing by hand.

Combine the 2 tsp instant coffee with 1 tbsp warm water in a small bowl. Add it to the mixture along with the 2 eggs, Mix together until combined. About 30 seconds.

To the batter, add the 1 ¾ flour, ½ tsp baking powder, ½ tsp baking soda, and ½ tsp kosher salt. Mix lightly to combine.

Add the buttermilk last and mix just until combined. Pour the batter into the muffin tin ⅔ of the way full and bake for 18 minutes.

Let the cupcakes cool before frosting.
Notes
You can use instant coffee or cold brew, whatever you have on hand! Frost with this coffee frosting recipe.
Nutrition
Nutrition Facts
Easy and Moist Coffee Cupcakes
Amount Per Serving (1 cupcake)
Calories 175
Calories from Fat 72
% Daily Value*
Fat 8g12%
Cholesterol 22mg7%
Sodium 115mg5%
Potassium 49mg1%
Carbohydrates 24g8%
Protein 2g4%
Vitamin A 46IU1%
Calcium 30mg3%
Iron 1mg6%
* Percent Daily Values are based on a 2000 calorie diet.