If you need a quick an easy cupcake frosting recipe you have come to the right place! This collection of over 15 cupcake icing recipes gives you so many flavors and variations to try. Plus they are all made in 5 minutes or less. From classic vanilla buttercream to tangy cream cheese frosting, you can't go wrong with any of these!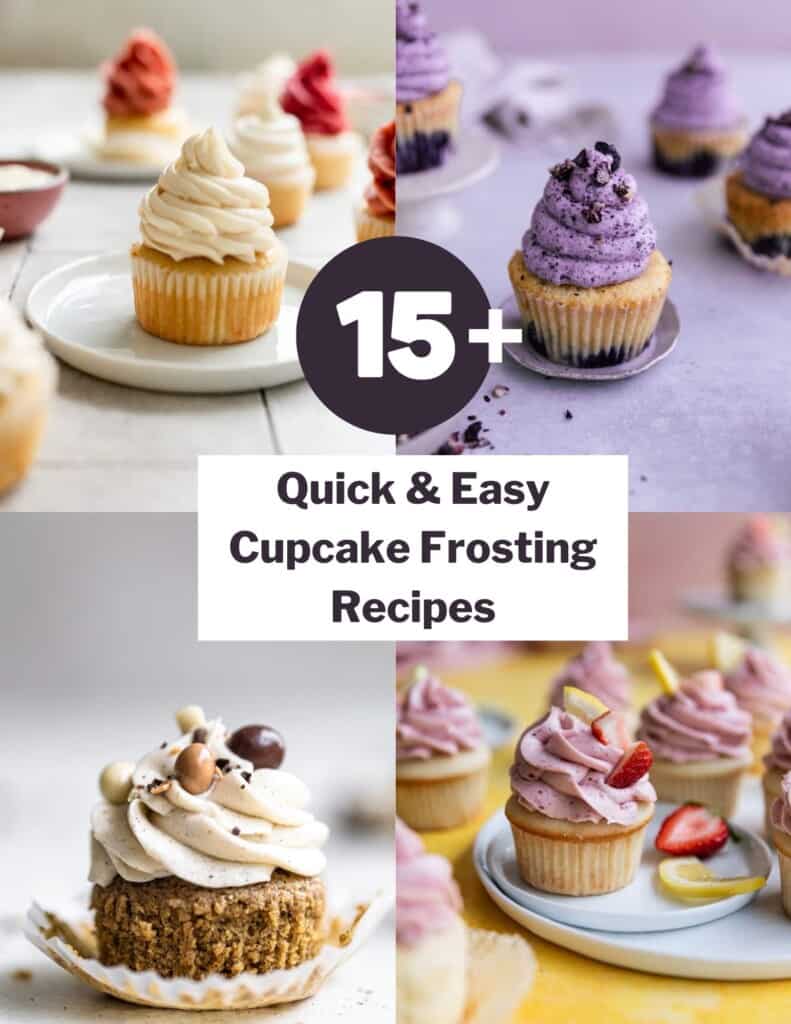 Cupcakes are always such a huge hit for any occasion because they are generally easier to make than a whole cake, plus kids love them! They are also individually sized so they are much easier to serve.
And when you bake cupcakes, you also need delicious and easy cupcake frosting recipes to go with it! As a trained pastry chef, I have made literally hundreds of cupcake icing recipes over the last 10 years. Read on to find 15 of my favorite ones- the best part is they are all made in 5 minutes or less! It doesnt get easier than that!
Pro tip- All these cupcake frosting recipes require softened butter. If your butter is cold, learn how to soften butter quickly so you can get back to frosting your cupcakes ASAP!
Cupcake Frosting Tips
To make your cupcakes look more professional, use piping bags and decorating tips to frost. My favorite decorating tip, and the one I have used on most of my cupcakes is the 1M tip from Wilton.
If your frosting is too thick, the general rule is to add 1-2 tsp at a time of milk or cream to thin it out.
If the frosting is too thin, then add 1/4 cup powdered sugar at a time, mixing in between until you get to the right consistency.
You can easily color frosting by using a water based or gel food coloring. Remember a little bit goes a long way, so start with a small amount and work up from there!
How to store cupcake frosting
Storing frosting is super easy to do! If you are making it only 1-2 days in advance you can store it in an airtight container at room temperature. Or you can fill a piping bag and cover the tip with a paper towel and leave it overnight on your counter.
If you are making it a few days (3-5) in advance then store it in a container in the fridge. It will harden up so make sure to take it out 1 hour before you need to use.
You might have to rewhip it in the mixer to fluff it up a bit.
Freezing
To freeze icing, dump it on top of plastic wrap and wrap it up well. There's no need to use a bowl, just the plastic wrap. Store it in the freezer for up to 3 months. Defrost in the fridge or counter and re whip in the mixer.