Indulge in the creamy sweetness of white chocolate with this White Chocolate Glaze. Made with just three basic ingredients – real white chocolate, cream, and powdered sugar – this velvety glaze is incredibly easy to whip up and top over desserts like a white chocolate raspberry cake.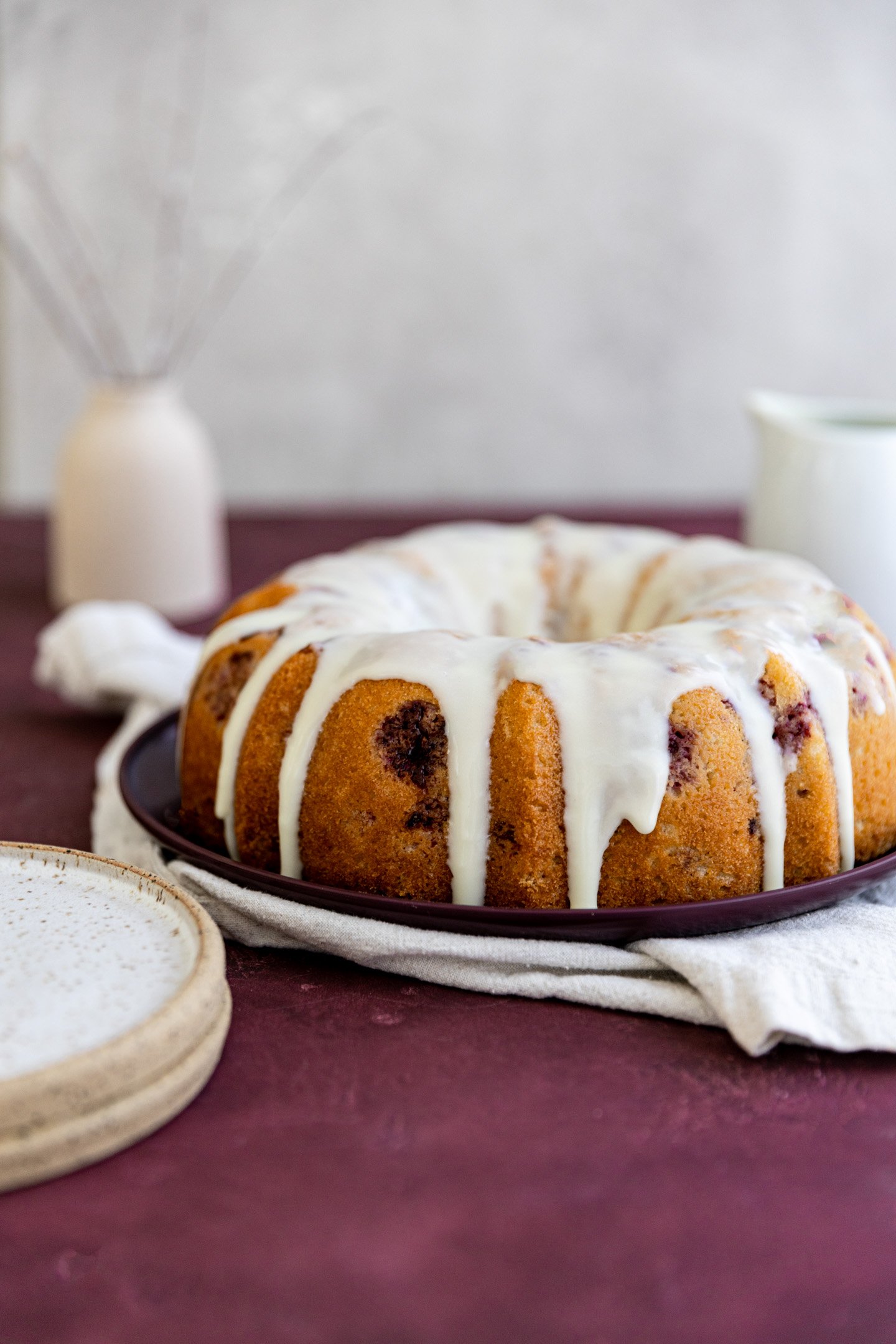 As a professional baker, I like to have lots of different glaze and frosting flavors in my back pocket. I never ever make a bundt cake like this white chocolate raspberry bundt cake, without covering it in a glaze like this- it makes the cake look so much prettier, plus I love the extra sweetness it brings.
This white chocolate glaze is so easy to make because there is no real cook time, and it only uses 3 ingredients. White chocolate is made from cocoa butter, milk solids, sugar, and vanilla. It has a more sweet flavor than regular chocolate.
The only thing I am asking when making this recipe is that you use a baking bar and not white chocolate chips. I ask this because chocolate chips do not have any cocoa butter, and baking bars do. If you try to make this recipe with white chocolate chips, it will not work!
My favorite baking bars are Bakers, and Ghirardelli.
This glaze would be delicious topped over these Cinnamon Rolls, Lemon Blueberry Scones. Or skip the buttercream and drizzle this over these white chocolate raspberry cupcakes!
No matter how you use it, this easy white chocolate glaze is a perfect addition to your dessert recipe collection when you need a quick and easy way to elevate any dessert!
WHY YOU SHOULD MAKE THIS RECIPE
So easy to make, no cooking involved!
Made with only three simple ingredients.
From bundt cakes to cupcakes, pancakes to pastries, this glaze effortlessly enhances the flavor profile of a wide variety of treats, making it a go-to option for both casual gatherings and special occasions!
INGREDIENTS NEEDED
White Chocolate Baking Bar (not chips) – don't use chocolate chips, instead use a baking bar. It contains cocoa butter, which ensures a smooth texture and optimal melting. I like Bakers White Chocolate.
Heavy Cream – When heated, the cream combines with the white chocolate, resulting in a rich and pourable glaze.
Powdered Sugar – It dissolves easily and combines seamlessly with white chocolate and cream, creating a glossy finish and adding a delicate sweetness to the glaze.
HOW TO MAKE WHITE CHOCOLATE GLAZE
Prepare the chocolate: Remove the white chocolate from the package and chop it into similar-sized pieces to ensure even melting. Place the chocolate into a heatproof bowl.
Heat up the cream: Pour the cream into a microwave-safe bowl and heat up the cream in the microwave for 45 seconds.
Combine the cream and chocolate: Pour the cream over the chocolate and let it sit for 5 minutes to melt the white chocolate. Then, stir with a spatula after 5 minutes of sitting.
Assemble the glaze: Add the powdered sugar to the bowl, and whisk until fully combined. Let the glaze sit for an additional 5 minutes to thicken before drizzling it over your favorite desserts.
TIPS FOR RECIPE SUCCESS
Don't use white chocolate chips as they will overheat, they are not a good quality to use here! Use a quality white chocolate baking bar like Baker's Brand.
Be patient and allow the hot cream to sit on the chopped white chocolate for the full 5 minutes. This resting time allows the heat to melt the chocolate thoroughly and ensures a smooth and well-incorporated glaze. Covering the bowl with a plate helps to retain the heat and aids in the melting process.
Sift the powdered sugar into the glaze to avoid lumps for a smooth glaze.
For a thicker glaze, let it sit for an additional few minutes before use. The glaze will naturally thicken as it cools. If you prefer a thinner consistency, you can gently warm it in the microwave in short bursts, stirring well in between, until you achieve the desired consistency.
You can use a spoon, a piping bag, or a plastic squeeze bottle to achieve precise lines or artistic patterns when topping your desserts.
STORAGE AND FREEZING
To store the white chocolate glaze, transfer it to an airtight container or a jar with a tight-fitting lid. Keep it in the refrigerator for up to 5 days. Before using it again, allow the glaze to come to room temperature and give it a good stir to restore its smooth consistency. Note that the glaze may thicken slightly after refrigeration, but it will soften as it warms up.
Freezing is not recommended. Freezing can alter the texture and cause separation when thawed, resulting in a less desirable consistency. It's best to prepare the glaze fresh when needed for optimal taste and quality.
FAQ
Can I substitute milk or half-and-half for heavy cream?
Not for this recipe. Heavy cream is the only milk option that will melt the chocolate well.
How can I prevent lumps in the glaze?
Sift the powdered sugar. Make sure the warm cream sits over the white chocolate for 5 minutes to fully melt the chocolate. Also, ensure you add in the powdered sugar gradually, adding it in small increments and mixing well after each addition.
Can I reheat the glaze if it becomes too thick?
Yes, if the glaze becomes too thick, you can gently reheat it in short bursts in the microwave, stirring well in between, until it reaches the desired consistency. Be careful not to overheat it, as white chocolate can easily seize and become grainy.
MORE WAYS TO ENJOY WHITE CHOCOLATE GLAZE
Drizzle or dip this simple glaze into even more tasty desserts!

3 Ingredient White Chocolate Glaze
Indulge in the creamy sweetness of white chocolate with this White Chocolate Glaze! Made with just three basic ingredients – real white chocolate, cream, and powdered sugar – this velvety glaze is incredibly easy to whip up and top over desserts like a white chocolate raspberry cake.
Print
Pin
Save
Saved!
Rate
Ingredients
4

oz

white chocolate baking bar

such as Bakers or Ghirardelli (no chocolate chips!)

1/4

cup

cream

(2 oz)

2/3

cup

powdered sugar
Instructions
Chop up the 4 oz white chocolate into small pieces and place in a heat proof bowl.

Microwave the 1/2 cup cream for 45 seconds.

Pour the hot cream over the white chocolate and let it sit for 5 minutes with a plate covering the bowl.

Stir with a spatula after 5 minutes.

Add in the 2/3 cup powdered sugar and whisk well.

Let it sit for 5 minutes to thicken, then drizzle over bundt cakes or your favorite desserts.
Notes
Please only use a white chocolate baking bar and not chocolate chips. A baking bar has actual cocoa in it and chocolate chips do not!
Nutrition
Nutrition Facts
3 Ingredient White Chocolate Glaze
Amount Per Serving
Calories 1125
Calories from Fat 522
% Daily Value*
Fat 58g89%
Cholesterol 91mg30%
Sodium 120mg5%
Potassium 382mg11%
Carbohydrates 149g50%
Protein 8g16%
Vitamin A 909IU18%
Vitamin C 1mg1%
Calcium 266mg27%
Iron 0.4mg2%
* Percent Daily Values are based on a 2000 calorie diet.